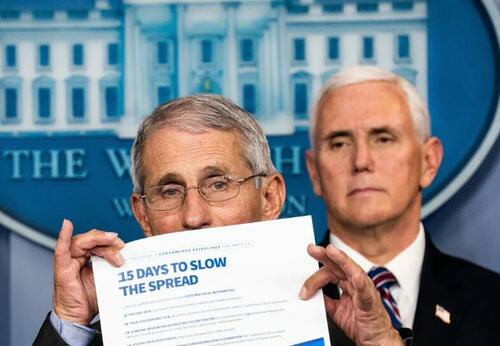 Last Thursday marked the three year anniversary of the infamous "15 Days To Slow The Spread" campaign.
By March 16, yours truly was already pretty fed up with both the governmental and societal "response" to what was being baselessly categorized as the worst pandemic in 100 years, despite zero statistical data supporting such a serious claim.
The Moment That Shook the World: "15 Days to Slow the Spread" (March 16, 2020)

Fauci: "In states with evidence of community transmission, bars, restaurants, food courts, gyms, and other indoor and outdoor venues where groups of people congregate should be https://t.co/T9CGrYFNjv… pic.twitter.com/k5oaU36YAR

— The Vigilant Fox 🦊 (@VigilantFox) March 16, 2023
So much of the Covid hysteria era was driven by pseudoscience and outright nonsense, and yet, very few if any world leaders took it upon themselves to restore sanity in their domains. Now, unsurprisingly, so many elected officials who were complicit in this multi-billion person human tragedy won't dare to reflect upon it.
Covid hysteria and the 3 year anniversary of 15 Days To Slow The Spread serves as the beginning period of a permanent scar resulting from government power grabs and federal overreach.
While life is back to normal in most of the country, the Overton window of acceptable policy has slid even further in the direction of push-button tyranny. Hopefully, much of the world has awakened to the reality that most of the people in charge aren't actually doing what's best for their respective populations.