Black conservatives rally around Kari Lake for refusing to stand for Black national anthem at Super Bowl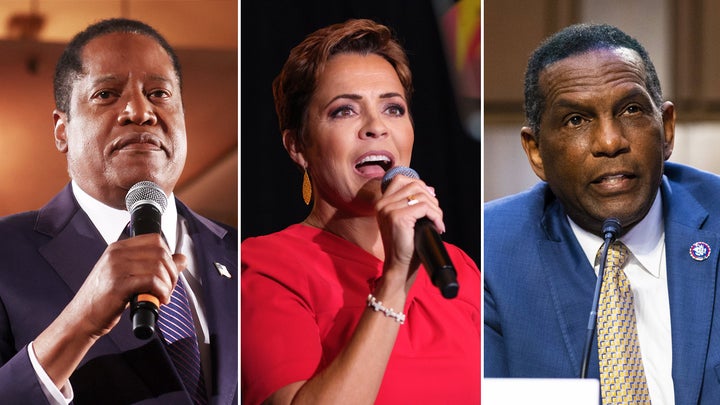 Black conservatives are rallying around Kari Lake for refusing to stand for the Black national anthem as it was played prior to Super Bowl LVII at State Farm Stadium in Glendale, Arizona, on Sunday.
A photo of the former Republican gubernatorial candidate and TV news anchor sitting during the playing of "Lift Every Voice and Sing" went viral following the game, sparking a frenzy on social media.
Speaking with Fox News Digital, former Republican California gubernatorial candidate Larry Elder and Republican Utah Congressman Burgess Owens, a former NFL player, expressed support for Lake and blasted the idea of there being a separate anthem based on skin color.
"I agree with Kari Lake. We have one national anthem, and it's THE national anthem," Elder told Fox in a statement. "I am as opposed to playing both anthems as I am to the term 'African – America' and to Black History Month."
"These things are divisive. They imply blacks are somehow separate and apart from American history, tradition and experience. It suggests continued victimization and oppression when antiblack racism in America has never been more insignificant," he added. "Blacks fought and died in every American war, including the Revolutionary War, in which a black man was the first casualty. We ARE American history."
Owens echoed Elder's sentiment, telling Fox the NFL was "working very hard" to divide Americans by having the Black national anthem played before games and that he would also only ever stand for "The Star-Spangled Banner."
"There is only one national anthem," Burgess said, adding that "Lift Every Voice and Sing" was a "remarkable" hymn, just not on the same level as "The Star-Spangled Banner." He went on to slam the NFL for pushing other social justice issues like defunding the police.
---